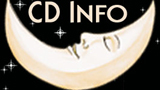 Sandi Sings Bedtime Favorites is a new CD of 20 traditional children's bedtime songs with brand new arrangements by Sandi & Stevie. As an added bonus, Sandi & Stevie have written 3 bedtime songs specially for the album.

All the songs are sung exclusively by Sandi - with Stevie making a special guest appearance on two of the songs.

Sandi's magical voice resonates with the warmth of a mother singing to her child at bed time and it quickly lulls children into the magical land of dreams.

Sandi Sings Bedtime Favorites is a departure from the whimsical nature of Sandi & Stevie's Insect Songs & Sealife Songs, but it will quickly become a bedtime favorite with children - and their mums and dads too!